HOME
NEWS
SEARCH
SITEMAP
TIMELINE
IMAGES
HELP
VIDEOS
TOUR
STORE
CONTACT


Deeds not Words


Friends of the Cerberus Inc. is a not for profit association. We aim to raise the necessary funds to stabilise Cerberus before she totally collapses. To achieve this we are endeavoring to educate the public about the significance of Cerberus as well as lobbying governments for the necessary funds.

The Victorian Navy is the membership arm of Friends of the Cerberus with two categories of membership for individuals. Memberships are also available for organisations.



---




Membership for Individuals

Full Members ($20 or more per year) will receive:

a Victorian Navy certificate of membership bearing your choice of rank. (depending on payment)

a regular Newsletter.

invitations to member functions, including information sessions

Cerberus bumper stickers

a warm fuzzy feeling from assisting financially."
the right to stand for office & vote at the Annual General Meeting.

Note: Full members may pay an extra $10 and join up the rest of their family as full members.

mouseover each image




To join The Victorian Navy, as a Full (paid) Member go to our Online Store and select your desired rank.





Associate Members (Free) will receive:

a regular newsletter (by email)

your choice of the honoury ranks of "Training Seaman", "Boy", "Officer's Servant" or "Crew Member".

our gratitude for swelling the membership numbers.
the right to attend the Annual General Meeting as a non-voting member.



---
Membership for Organisations
Membership of the Victorian Navy is available for organisations. There are 11 classes of paid membership & one class of free membership.
| Class of Membership | Annual Fee |
| --- | --- |
| Monitor | $1,000 |
| Line of Battleship | $500 |
| Gunboat | $400 |
| 1st Class Torpedo Boat | $360 |
| 2nd Class Torpedo Boat | $330 |
| Torpedo Launch | $300 |
| Auxiliary Gunboat | $270 |
| Steam Sloop | $240 |
| Armed Launch | $210 |
| Mine Layer | $180 |
| Picket Boat | $150 |
| | |
| Gun Raft | Free |
Ships of the Victorian Navy SlideShow
Payment of the appropriate fee entitles the organisation to the class for one year. A financial organisation is entitled to send two voting representatives to the AGM. Other members of the organisation as well as Gun Raft members are welcome to attend as non-voting members.

All organisations would receive our newsletter which is published approximately once a month with members receiving the newsletter by e-mail. A welcome message is included in the first newsletter that members receive and draws attention to the unsubscribe link that appears at the bottom of each newsletter.

A membership certificate is issued in the name of the organisation for the class of membership purchased. It is an A4 size certificate and contains the ship's badge of HMVS Cerberus (courtesy of the RAN), the Friends of the Cerberus logo & coronetts in each corner which were used to indicate that Cerberus was the flagship of the fleet. The text is from an 1880's Victorian Naval Certificate courtesy of the Museum of HMAS Cerberus and the descendants of Gunner Robert Kearns.

Organisations can join the Victorian Navy by using the printable membership form or via the Ship's On-line Store.
---
Payment Methods

Payment via PayPal (suitable for anyone with a Visa card or Mastercard)

This method uses the secure PayPal website and accepts payments from a PayPal account and from Visa cards and Mastercards.
Purchasers do not need to join PayPal.

Pay with PayPal, Visa card or Mastercard at our On-Line store.


---




Payment using Credit Card (suitable for anyone with a Visa card or Mastercard)

This can be done via PayPal online (above) or by using the Printable membership form for Individuals or for Organisations which is then posted to:



Chief Gunner Peter Tully
Victorian Navy,
c/o Friends of the Cerberus Inc.,
PO Box 1231,
Blackburn North 3130,
VICTORIA

(Credit card details are destroyed after the transaction has been processed.)


---




Payment by Cheque (suitable for those with an Australian Cheque Account)

Send membership fee by cheque or money order, made payable to Friends of the Cerberus Inc., to the address below:

Please write your name & address on the back of the cheque to enable matching of payment & form.



Chief Gunner Peter Tully
Victorian Navy,
c/o Friends of the Cerberus Inc.,
PO Box 1231,
Blackburn North 3130,
VICTORIA

---
Telephone Contacts
The committee members below are available to answer questions by phone.
Their civilian ranks are given in brackets.
| | |
| --- | --- |
| Lieutenant Commander John Baragwanath (Treasurer) | |
| Fleet Engineer John Rogers (President, Website & Research) | |
| Commander John Toogood (Vice President) | |
| Chief Gunner Peter Tully (Secretary) | |
---
Citing your Rank
So as to correctly indicate to which navy you belong we suggest the use of the following notation.

Rank Name (Victorian Navy)

e.g. Leading Stoker John Smith (Victorian Navy)

Please remember that in order to hold the rank you must be registered as a full or associate member.
If a full member you would of course need to be financial.

Should you wish to include your rank when signing e-mails please consider also adding our logo/link (below) with the easy to follow on-line instructions as a way of spreading the word about Cerberus.


---
Victorian Navy Senior Officers inspecting Cerberus on 19 December 2003
Standing on the glacis plate of the forward turret are left to right - Lieutenant Commander Patrick Simpson, Chief Leading Stoker Gary Grimmer (late of the Confederate Air Force), Chief Gunner Peter Tully and Commander John Toogood.
Absent from the photo are First Lieutenant Paul Baxter, Stoker Graeme Disney, Lieutenant Commander Paymaster John Baragwanath & Fleet Engineer John Rogers.
Our thanks to Parks Victoria for the use of a boat & to Heritage Victoria for the permit to board Cerberus.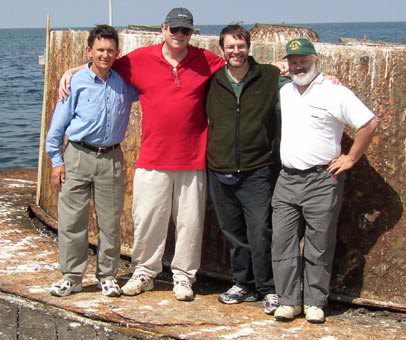 ---
We are grateful to Brad Golding for suggesting the reconstitution of the Victorian Navy.
---
AGM Reports 2005-6
AGM Reports 2006-7
AGM Reports 2007-8
AGM Reports 2008-9
AGM Reports 2009-10
---